Musical Lairs House Concerts
Featured Performer
June 24, 2017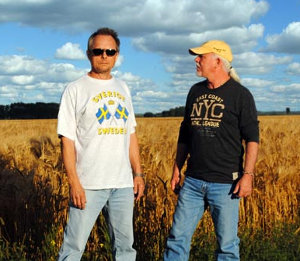 A two lane highway can unfold like a book of stories as the miles flash by. Idlewheel's music has the same sense of discovery to it carried along by easy flowing rhythms are flashes of personal revelation and homespun irony, speeding past you like an oddly familiar small town. Craig Bickhardt and Jack Sundrud do it all with a wry nonchalance that belies their uncommon craftsmanship.
These guys know the high road of country rock better than most. Their credits are solid and sterling. Bickhardt was a member of renowned Nashville group SKB that enjoyed country radio success with hits that included Bickhardt and Schuyler's "This Old House". He has also penned songs for Johnny Cash, Ray Charles, Martina McBride, and B. B. King, and wrote and sang the closing theme for Robert Duvall's Academy Award winning film Tender Mercies.
Sundrud cracked the charts with Great Plains (Sony Records) and now plays bass in the pioneering country rock group Poco, whose 40 year roster reads like a who's who in the genre. His songs have been recorded by Kenny Rogers, The Judds, The Persuasions and others. Together Craig and Jack wrote Ty Herndon's mega hit "It Must Be Love."
But Idlewheel isn't a spin off of any of these projects. It's more the product of afternoons spent swapping stories and woodshedding songs, of testing each other's creative limits in defiance of Nashville's prevailing conservatism. The incisive lyrics are framed by a stripped down approach, rendered with snap and bite. The sound conjures up memories of the feisty, unfettered spirit of early Southern California country rock, with a dash of the Everly Brothers and a hint of Van Morrison thrown in.